Films in 2000 (Part 3)
Click HERE for Part 1 and HERE for Part 2


(2000)
Production Company: Spyglass Entertainment
Scriptwriter: Mitchell Kapner, Jerrold E. Brown and John Jarrell
Distributed by Touchstone Pictures
Fight Coordinator: Yuen Biao
Cast: Jackie Chan, Owen Wilon, Lucy Liu, Curtis Armstrong, Roger Yuan, Xander Berkeley, Brandon Merrill, Neil Trifunovich



Shanghai Noon was Jackie's next major U.S. movie after "Rush Hour" is an interesting tale of intrique of when China comes to the Wild West. An acrobatic Imperial Guard (Jackie Chan as Chon Wang) searches for honor, royalty, and a trunk full of gold when he rescues a beautiful Chinese princess (Lucy Liu). She is kidnapped by the Emperor's former Captain of the Chinese Imperial Guard (Yuan) to the US to become an international opium dealer. To make things interesting, he has to work with a train-robbing partner he doesn't trust (Owen Wilson), a wife he doesn't want and a horse he cannot ride! Of course, in any Jackie Chan movie (just like Bruce Lee in the past and Jet Li today, there are great martial martial scenes stunts! Guns, martial arts, gunslingers, kung fu, women, etc. are just some of the elements that is part of Jackie's latest film!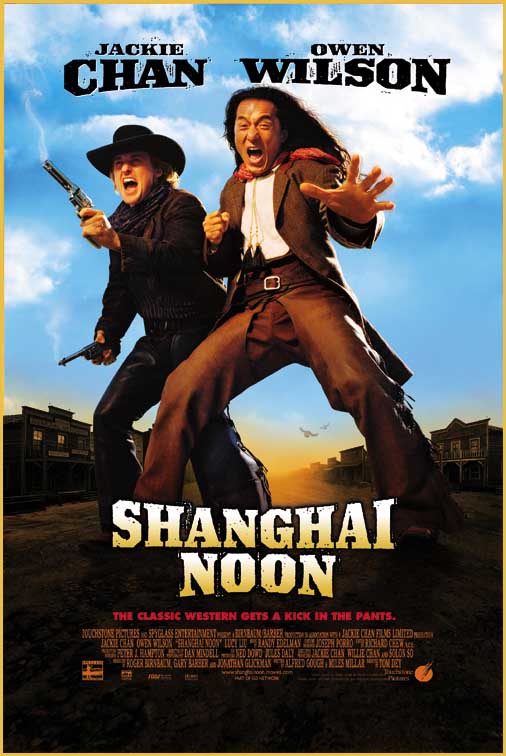 Interesting side notes (March 3, 2000): There appears to be a great deal of confidence behind this movie. This is seen with the studio and screenwriters are working on a sequel on this film - shades of "Return to the Future" movies. They moved up the date to open the film on Memorial Day Weekend against Mission Impossible 2, to have that epic Chinese battle between John Woo and Jackie Chan! Do you remember who won! (review Mission Impossible 2's information to find out how much money was made!) (note: still, just like Jet Li's latest movie "Romeo Must Die" - there appears to be no romance, but did anyone think that Jackie would kiss the girl (any girl) - despite his recent news!?!?!?
This confidence seems to still be there, despite the fact that the film's director Tom Dey, thought that the opening weekend figures could have exceeded the reported $19.6 million and reached a minimum of $30 million dollars. Tom Day stated that "it was a mistake for studio marketers to sell the movie on its corny ''fish out of water'' high jinks, rather than its more elevated theme about friendship between two opposites, Chon Wang (Jackie Chan) and Roy O'Bannon (Owen Wilson). "I feel like it was misrepresented,'' says Dey. ''The trailers really dumbed it down." Disney executives noted, however, that Rush Hour's main competition was against the film "One True Thing" that only grossed $6.1 million and Chan's last film opening weekend was only $5.3 million with the film Mr. Nice Guy.
Review what Hong Kong's media says about this film, as oppose to an American American review!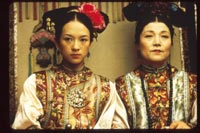 CROUCHING TIGER,
HIDDEN TIGER

(2000)
Director: Ang Lee
Cast: Zhang Zi-Yi, Michelle Yeow, Chow Yan Fat, Chang Zheng, Zheng, Pei-Pei, Gao Xi-An
James Schamus, Wang Hui Ling, Kuo-Rong Tsai are the writers in this movie about the story of two capable women fighters who meet during the Ching Dynasty. One of them tries passionately to break free from the constraint society has placed upon her, even if it means giving up her aristocratic privileges for a life of crime and passion. The other, in her lifelong pursuit of justice and honor, only too late discovers the consequences of unfulfilled love. Their two destinies will lead them to a violent and astonishing showdown, in which each will make a surprising, climatic choice.
The movie's title comes from a popular Chinese saying that refers to a place where mysterious or unsuspected powers lurk. A Chinese movie that might save Hollywood's year: Who'd a-thunk it?
If you go into this movie knowing you are part of the rare crowd who love martial-arts and quicker-than-lightening fights, you will not be disappointed. It is as simple as that, if you are part of the latter, you will love and cherish this film. It is a very good film because Ang Lee has created something wonderful and different and breathtakingly full of life. It is a poignant evocation of martial-arts films of yore; of a cinematic style known as "wuxia pian". This style, which began in the sixties with COME DRINK WITH ME of 1965 and DRAGON INN of 1967, among others, is painlessly revisited with Lee's brilliant camera work and choreography.
In September Ang Lee's historical action-romance (Crouching Tiger, Hidden Tiger), was named the winner of the People's Choice Award at the Toronto International Film Festival. This Taiwan native director's (i.e. The Ice Storm, Sense and Sensibility) current film, however, is set during the Qing dynasty in China & stars Chow Yun-Fat as a martial arts warrior who longs to retire.
FILM REVIEWS
The released DVD does justice to the film's magical images and evocative soundtrack. And the disc is crammed with extras: an excellent Bravo making-of documentary; a conversation with action star Michelle Yeoh; audio commentary by the director and producer; Dolby Digital sound; and the choice of listening to the cast speaking original Mandarin (with English subtitles), or dubbed into English or French.
(2000)
Director: Joseph McGinty Nichol
Studio: Columbia/Tristar Studios
Cast: Cameron Diaz, Drew Barrymore, Lucy Liu, Bill Murray, Sam Rockwell, Tim Curry, Kelly Lynch, Crispin Glover, John Forsythe, Matt LeBlanc, Tom Green, LL Cool J, Luke Wilson, Sean Whalen, Tim Dunaway, Alex Trebek, Ned Bellamy, Al Goto



They're beautiful, they're brilliant and they work for Charlie - even an Asian American female (Lucy Liu)! This is a sexy, high-octane update of the popular hit show, Natalie (Cameron Diaz), Dylan (Drew Barrymore) and Alex (Lucy Liu), alongside faithful lieutenant Bosley (Bill Murray), must foil an elaborate murder-revenge plot that could not only destroy individual privacy and corporate security worldwide, but spell the end of Charlie and his Angels.

Special Note: This high-profile movie provided another opportunity for Lucy Liu to demonstrate that she is a fast-rising star to be reckoned with, just like her co-stars on this movie.

(2000)
Director: Michael Radford
Studio: Vidmark/Trimark
Cast: Sandra Oh, Jennifer Tilly, Charlotte Ayanna, Daryl Hannah, Sheila Kelley, Elias Koteas, Vladimir Mashkov
A non-glamorous portrayal of the lives of people who make their living at a strip club. An up-close and personal look, on stage and backstage, at five ecdysiasts who dance at the Blue Iguana in L.A. Stormy is melancholy and distant; a man from her past has come to town and wants to see her. Jasmine writes poetry and may have met someone - Dennis, who organizes readings at a coffee house. Angel, a ditzy stoner, wants a foster child; a Russian hitman is smitten by her. Jessie is new in town, a vulnerable adolescent who tries to act grown up. Jo is brassy, in-your-face, and pregnant. Eddie runs the place with help from Bobby. A big weekend is coming up, so he's hired Nico to headline. The women look for reassurance; some find it in each other.


site design by Asian American Artistry
for any questions regarding the content, please contact Asian American Artistry
Copyright © 1996-2003 - Asian American Artistry - All Rights Reserved.